Hello, friends!
What do you say we make some art together? Josh Michaels and Surya Buchwald are curating a show of interactive digital art at a new space in downtown Portland in the first week of August. We're very excited to bring interactive art to an open street level gallery for the public to enjoy.
How To Participate
To participate in the jam please sign up for one of our hackdays. You can now register for the second hackday taking place on August 2nd, 2014 in the box below. If you have any questions you can e-mail me here.
The Vision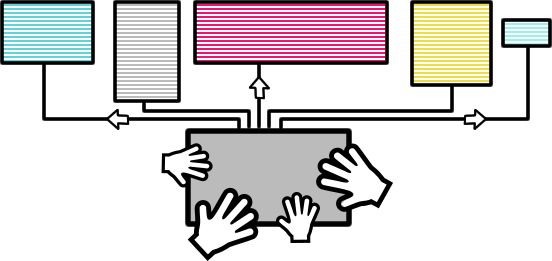 We're creating a space full of interactive art that all responds to touch input coming from a single source in the room. We'll do this by providing a stream of TUIO data which provides a standard way of describing touches over a network.
Some Details (in progress):
Venue
We have a venue for the show thanks to Josh, who has rented a gallery space across from Ground Kontrol in Portland for a year! The space includes a street level window which will showcase interactive art year round.
Hack Days
Hack Day 1 was a success! Sign up for Tuio Jam Hack Day 2 above!
Check out notes and details from the first hack day here: TUIO Jam Hackpad
Our second hack day will be Saturday, August 2nd (Venue TBD) in Portland. Registration is now open!
We wil work on our projects, inspire each other and run some preliminary network tests.
Example Projects
We will provide a demo project in Processing to get you up and running quickly, you can use whatever tools you want.
Exhibiting
We assume most projects will be displayed on screens, tablets and projectors - if you want to use another medium we may be able to make special accommodation.
The Future
We plan to have many projects like this. We may limit scope on suggested features, number of artists participating etc. to make sure things go smoothly, there will be plenty of chance to add further complexity and incorporate more people in the future.
---
Supported By: MMM Labs | Jetson Creative | Second Story